Eleven high-flying Apprentices and students from Accrington and Rossendale College have put their fledgling flair to the test by competing in the World Skills regional competition.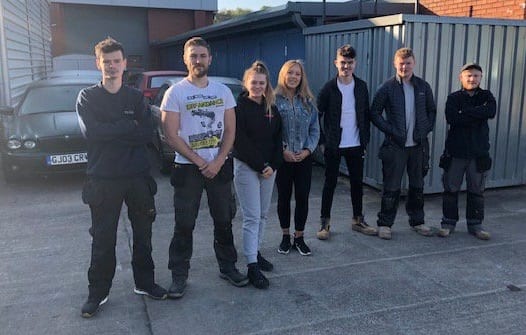 The competition held at Bolton College saw Accrington and Rossendale College Apprentices and students from the fields of Brickwork, Carpentry and Joinery, Painting and Decorating, and Plastering take part and challenge themselves to complete a task against the clock.
Accrington and Rossendale College Apprentices and students have the opportunity to take part in regional and national competitions such as World Skills on an annual basis. It is part of the college's ethos to stretch their talents, push them out of their comfort zones, and challenge them on tasks that they may not face in their day to day work with employers or within College.
Taylor Fox, 22, from Clitheroe, is an Intermediate Carpentry and Joinery Apprentice, who works for Retail Outlet.
He said: "This was my second year competing and I really enjoy it because it is fun. I won last year, and this year we had to make a frame which I thought I made a good job of completing so I'm hoping for a similar result. I also pick up useful skills and develop things like my time management, planning ahead and learning to be more methodical in my work.
"My Apprenticeship is great. I previously did A Levels and they were not for me. My grandad was a master carpenter so I thought I would have a go at that instead.
"I work in making things like shop fittings, but also on more bespoke projects. I really like it, and I enjoy my one day a week in College. Accrington and Rossendale College is the best in the area for Carpentry and Joinery, the facilities are great and my tutors are a huge help – they want you to be the best."
Advanced Plastering Apprentice Max Metcalfe works for Andrew Parkinson Plastering, and was another Apprentice competing.
Max, 21, from Haslingden, said: "I work on private properties plastering and rendering all over the country. The competition was a good experience, and very different to my day to day work.
"It was a chance to test my skills in fibre plastering, for example, which is very technical and not something I work with usually. I really enjoyed the challenge. It's something that I've wanted to do for a while and I think my efforts were deserving of a top three place.
"I've enjoyed my Apprenticeship because I have learned a skill that I will have for the rest of my life, and one that you can make a career out of. Through my work, I've also picked up skills in joinery and plumbing which are very useful. It has definitely boosted my confidence as well and I would like to go self-employed in the future."
Jayne Hodson, Head of Department for Construction and Motor Engineering at Accrington and Rossendale College, said: "Apprentices and full-time students who develop their talent at Accrington and Rossendale College have the chance to compete in prestigious competitions on an annual basis. This is part of the college's commitment to ensuring that they achieve their full potential, and develop and stretch their abilities and knowledge.
"Our tutors are time-served trade professionals with decades of experience and industry knowledge, and the Apprentices and students under our stewardship receive expert guidance first hand with the aim of producing high quality tradesmen and tradeswomen of the future.
"I'm thrilled that 11 Apprentices and students were able to compete at this year's World Skills regional competition. They were excellent representatives of the college and their respective employers and were fully committed to completing the tasks to the best of their ability. We look forward to finding out the results."
Accrington and Rossendale College recently announced a huge improvement in the National Achievement Rate Tables, with government figures showing that the college is now in the top 10 colleges in the country for 16-18 timely Apprenticeship achievement, at all levels, and classroom learning achievement at Level 3. The college improved by 50 and 91 places, respectively, in those measures.
For more information about Accrington and Rossendale College contact 01254 389933 or visit www.accross.ac.uk