Excellence, endeavour, progress and greatest contribution were just some of the accolades that students took home from Accrington and Rossendale College's stellar Learner of the Year Awards.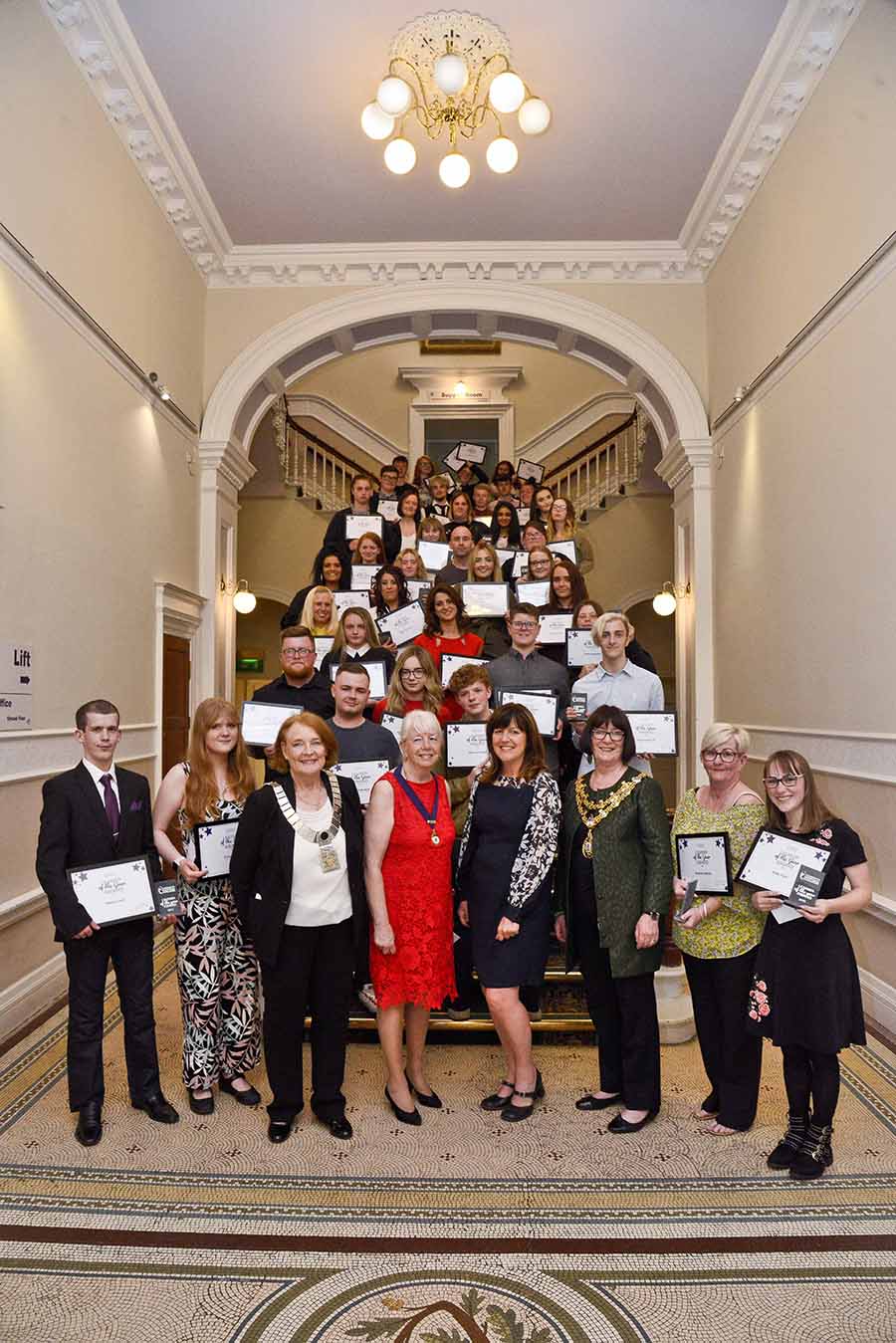 Held at Accrington Town Hall, students who performed highly or who have overcome obstacles to achieve were rewarded in front of family, friends, college staff and dignitaries, including the Mayors of Hyndburn, Rossendale and the Ribble Valley.
Level 2 Bench Joinery student Phillip Bentley went home with three accolades on the night, including a prize for endeavour, one as Work Experience Student of the Year and for going above and beyond.
Phillip, 18, from Rishton, has been part of a team from Accrington and Rossendale College's Construction department who have been renovating the Waterloo Pub in Burnley with Spacious Place, and his talent, professionalism and 'can do' attitude saw him stand out from the others.
Phillip said: "I really enjoy joinery and working on the pub has enabled me to build upon the skills that I have, as well as my knowledge of the trade.
"The course is great – I've always been a more practical person and I'm a bit of a perfectionist and I love the fact that I have the time to give my work that attention to detail. My tutors are also fantastic and very helpful –  there is nothing I can't ask them about the course."
Ayesha Ali, who is studying Level 2 Introduction to Early Year Education and Care, took home an award for going above and beyond, and was also named as Work Experience Student of the Year after completing 515 hours on placement during her course.
In addition to Ayesha's 200 mandatory hours, 315 of Ayesha's hours were part of a work placement trial for the new technical T Level qualifications which will start in September 2020, and she has received glowing reports from her employer Lee Royd Nursery School in Accrington.
Ayesha, 17, from Accrington, said: "My course has helped me develop my skills and knowledge so much, and the work experience has really boosted my confidence and my employability skills. I absolutely love working with children and it is something I have always wanted to do – it has been my dream since I was small.
"My tutors have been great and the course has been really good. I'm going on to an Apprenticeship at Level 3 and I'm really looking forward to starting that."
Principal Amanda Melton said: "Our Learners of the Year Awards Ceremony is one of the highlights in the college's annual events calendar and 2019 was no exception as we recognised and celebrated the achievements of our most dedicated and talented students for their ability, hard work, commitment and progress.
"Our students have once again achieved success in regional and national skills competitions, keeping our College and our employers firmly on the map at the leading edge of skills training, and guaranteeing that we have a highly skilled and qualified workforce ready to contribute to the continued regeneration of our local and regional economy into the future.
"Recently, the college announced a huge improvement in the National Achievement Rate Tables, with government figures showing that we are now in the top 10 colleges in the country for 16-18 timely Apprenticeship achievement, at all levels, and classroom learning achievement at Level 3.
"This is fantastic improvement, and I am confident we will continue that progression in performance as a merged institution with Nelson and Colne College."
For more information about Accrington and Rossendale College contact 01254 389933 or visit www.accross.ac.uk