X-PERT Weight are combating the UK obesity crisis- through evidence and education.
Accrington and Rossendale College hired out their 160 seat presentation theatre as a venue, giving the ideal backdrop for an exclusive, invite only event, on the morning of Wednesday 24th January 2018.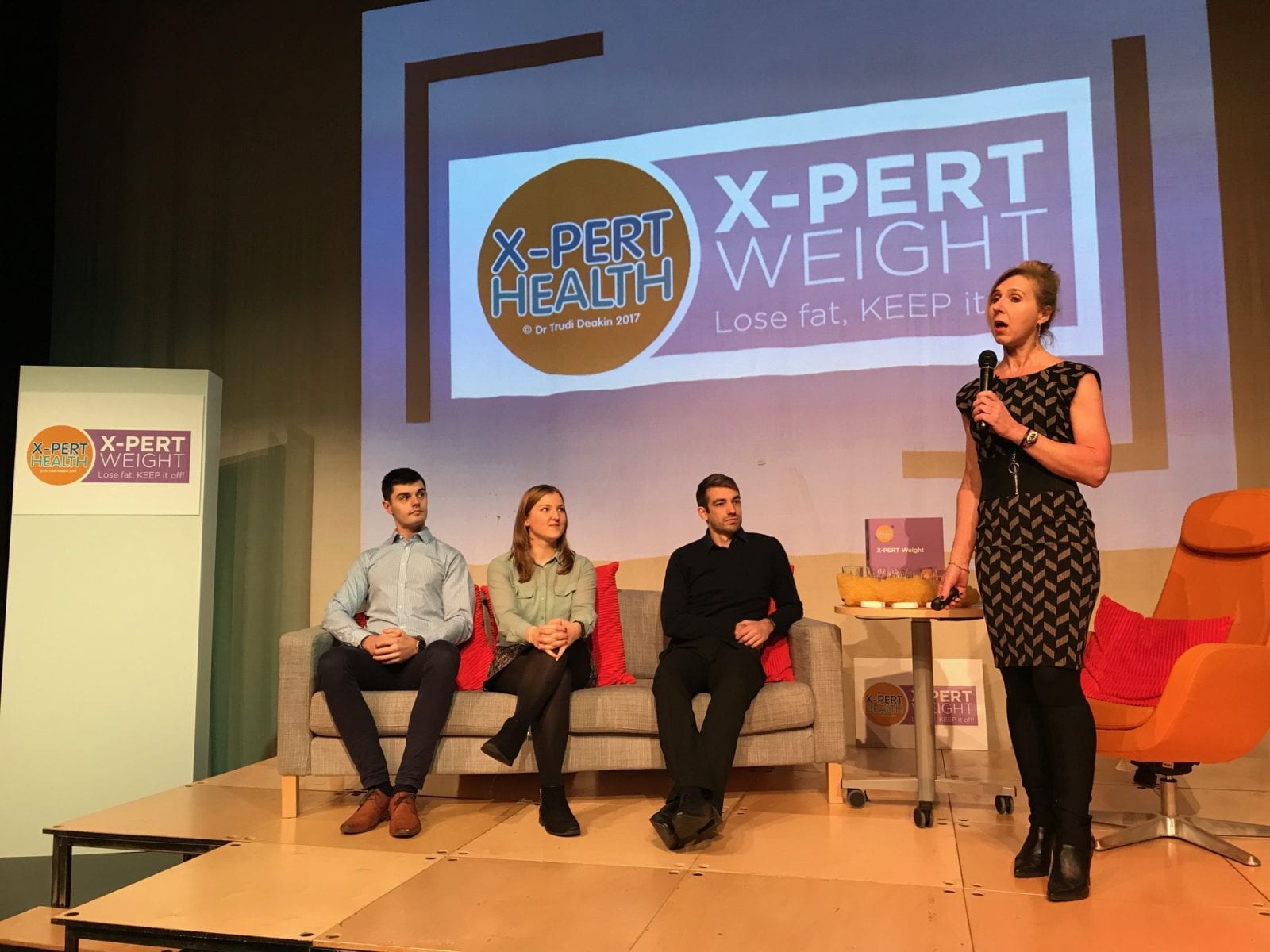 The X-PERT team take to the stage for the live filming of revolutionary new weight loss programme X-PERT Weight
By 2050 1 in 2 people will be obese if the weight epidemic increases at the current rate. Today the college were joined by health and fitness professionals, students and serial dieters. The turnout was brilliant, such a varied audience meant for lots of interesting discussion.
Dr.Trudi Deakin and the X-PERT Weight Clinical Team – Matthew Whitaker, Kirstie Lamb and Sean Wheatley – who all possess degrees to MSc /PhD level and are experts in nutrition and health, to the stage for the launch of their brand new weight management programme. They opened an exciting conversation surrounding dieting 'myths' that are commonly accepted as fact – from 'eat less, move more' to 'eating fat makes you fat'.
Scott Dawson Advertising organised and filmed the product launch: they are promoting X-PERT Weight and their innovative, evidence based approach to weight management.
Murray Dawson, Managing director of Scott Dawson Advertising, said:
"When planning this innovative product launch we instantly thought of Accrington and Rossendale College as the ideal venue. Their facilities are excellent and all of our filming crew commented on this. We wanted a location that reflects the brand, somewhere that has an interest and a passion for young people, making a real difference to the local community. X-PERT Weight has an ethos to combat obesity in the UK and believe the key to this is education of adults today, to make for a better tomorrow. I'd like to personally thank the college for hosting the event, the catering department for the wonderful canapé selection and to the staff and students that also eagerly attended the event."
The college's award-winning chef, Chris Dobson, and students from the catering department at Roots restaurant, provided an exquisite collection of canapés which went down a treat for the audience. All of these were true to the ethos of the X-PERT Weight programme – focusing on providing energy the body can utilise and eating real food. The selection included baked avocado wrapped in bacon, tuile made from lentils, holding a beetroot salad and chocolate lime 'fat bombs'.
Charlotte Scheffmann, Assistant Principle at Accrington and Rossendale College, said:
"Today was really positive, so many people were engaged and I know I personally benefited from the event. It was good to learn about the science behind the food we eat and I will definitely be looking into the X-PERT Weight programme in more detail with the view to run courses at the college. Alongside the health professionals there today it was brilliant to see so many enthusiastic students too, with burning questions and who got fully involved in the debate. This is exactly what we want at the college, young people learning and engaging with professionals. I would like to thank Murray at Scott Dawson Advertising for choosing our presentation theatre as a venue for the live filming. It's been a real pleasure; we are always open to discussion around hosting further events in the future with our facilities available to hire."
The audience were left with lots of food for thought after debates, discussion and a presentation by Trudi and her clinical team. Based in West Yorkshire, the X-PERT Weight team didn't have to travel too far today, they are excited to be branching out their programme in #AmazingAccrington in the near future and were overwhelmed by the support for their product launch.
Dr Trudi Deakin, Chief Executive of X-PERT Weight, said:
"We couldn't have asked for more today, the college have been wonderful, the venue was spot on and the audience were really engaged. As for the food, I've already requested the full recipe so I can make it at home! It was great to share information about X-PERT Weight, we are excited about the future and equally excited that Hyndburn are going to be one of the first places to have this product available to them. The app we have developed and the resource folder is accessible to all. Regionally our 12 week programme currently runs in Hebden Bridge, Halifax and Nelson – with Accrington next on the list! We also have courses for people interested in delivering our programme. These Educator courses run in our headquarters over three days, with accommodation provided, and give people all the tools they need to deliver the 12 week programmes anywhere in the world! It's also available for corporate bodies who may want to promote healthy wellbeing within the company and with their employees."
The event was a great success, and has already sparked lots of interest from organisations and individuals. Josh Cooper and Elle Kayley from Accrington Stanley have said they are taking all the information back to the team and are always looking for ways to improve player performance! Along with further corporate interest, Hyndburn Leisure Trust and Accrington and Rossendale College are also interested in running X-PERT Programmes in-house. Many individuals have signed up for further information about the upcoming Accrington programme and are excited about the prospect of clear dietary and lifestyle advice which is founded by  scientific research and professionals!
For further information about Accrington and Rossendale College and the courses they offer visit: www.accross.ac.uk
For further information about X-PERT Weight and the team visit: www.xperthealth.org.uk/weight
For Advertising and Marketing information visit: www.scottdawson.co.uk