Accrington and Rossendale College hold annual awards evening to celebrate apprentices
On Thursday 8th March 2018, Accrington and Rossendale College held their annual awards evening to celebrate the achievements of their apprentices.
"The awards evening takes place as a means to celebrate the success of our apprentices," said Lynda Mason, Interim Principal, "We are very proud of our apprentices' achievements and rightly honour them on this prestigious night. Our apprentices have kept our college and employers firmly on the map for skills training, guaranteeing that we have a highly skilled workforce ready to contribute to our leading economy."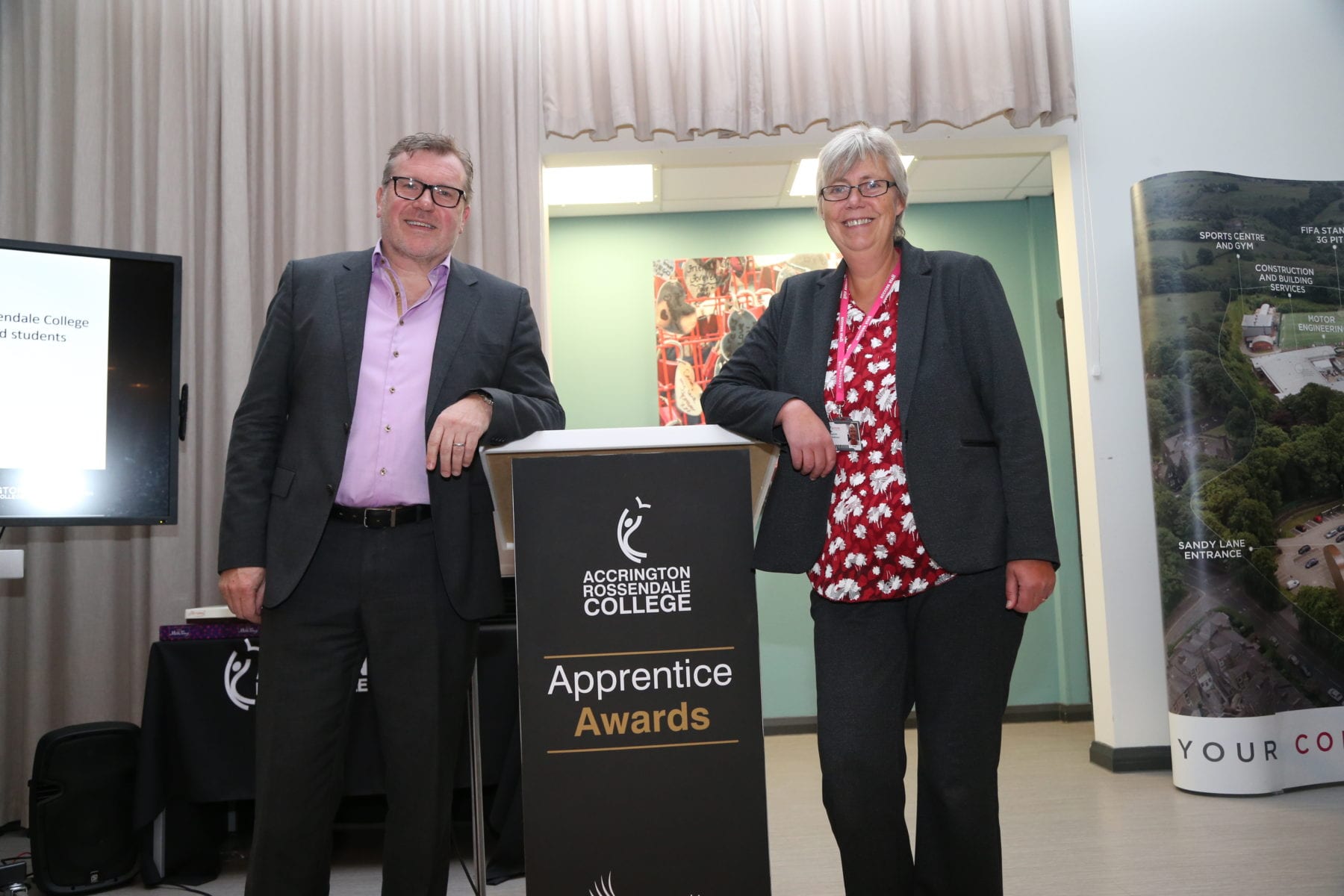 After general housekeeping rules and regulations being shared, the attendees enjoyed a presentation by TV personality, Chef Ambassador and Alumni of the college, Nigel Haworth, followed by a three-course meal, made by students of the college, before the awards presentation took place.
The Presentation of Awards took place at the college's own Roots Restaurant. It was introduced by Lauren Thomas, Apprenticeships Coordinator at Accrington and Rossendale College. She commented:
"The annual awards ceremony is always a hit with the apprentices and their employers alike. It really gives us the opportunity to reward the apprentices for their hard work; to make them feel valued and appreciated and this is of the utmost importance to us at the college."
Hairdressing award winner, Claudia Lord of Rawtenstall, said:
"I am doing an apprenticeship in hairdressing. It gives me the opportunity to earn money while doing something that I love. Receiving this award has made me feel like what I'm doing is really worthwhile."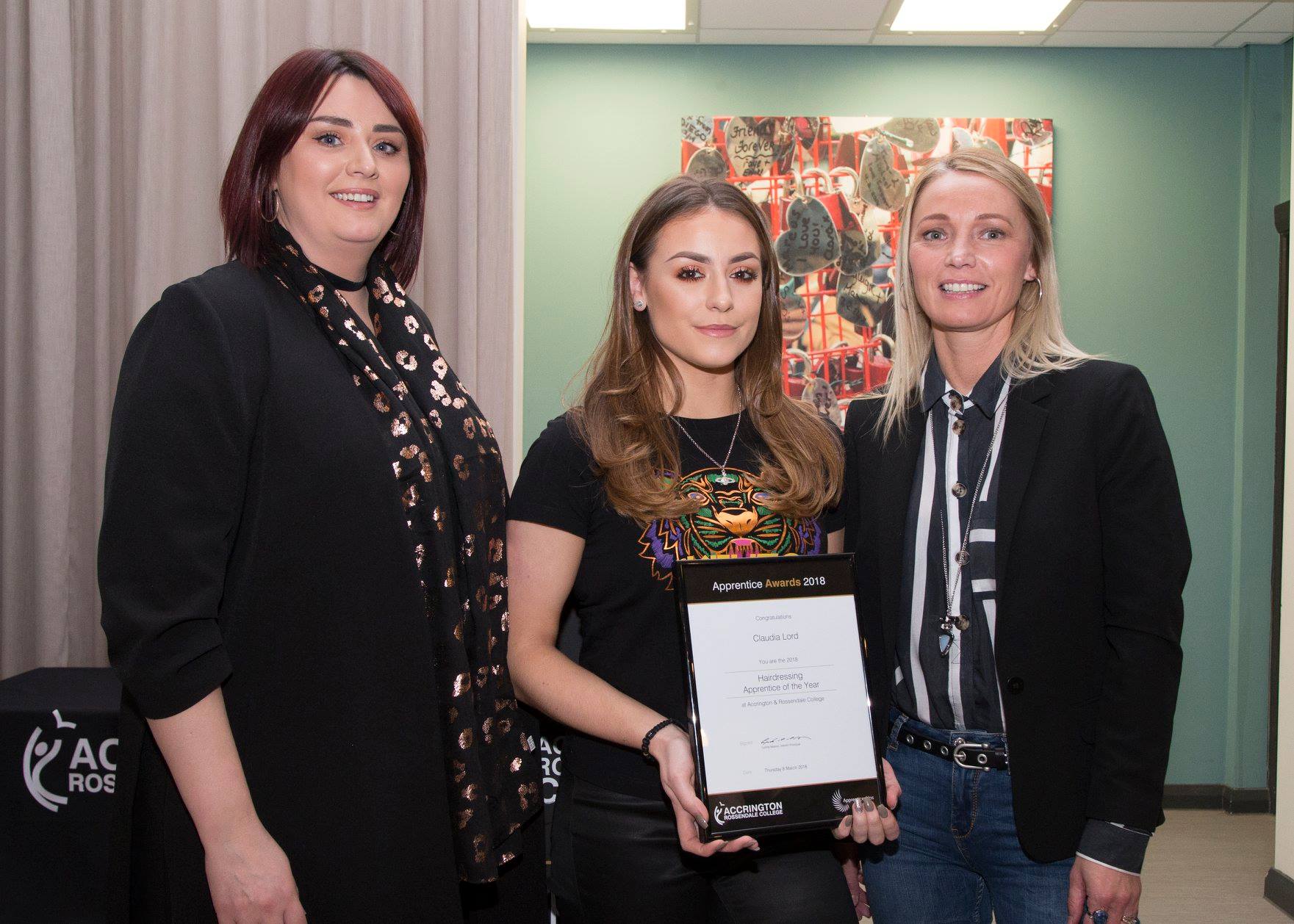 Charlotte Scheffmann, Assistant Principal, said:
"The awards evening truly illustrates how much we value our apprentices here at the college, as well as the assessors and employers who work with them. The apprentices have formed excellent relationships with businesses in and around the Accrington area, relishing the community link that we want to grow and strengthen. I'm proud of the achievements of our apprentices and I urge anyone interested to apply to study an apprenticeship with Accrington and Rossendale College."
See full list of award winners below:
Apprentices
Health and Social Care – Megan Pritchard
Early Years Education – Jackie Allonby
Brickwork – Peter Mellodey
Brickwork – Jacob Banks
General Construction Operations – Daniel Woods
Painting and Decorating – Megan Talbot
Motor Engineering: Light Vehicle – Tyler Holt
Hairdressing – Claudia Lord
Business Administration – Wendy Gooden
Business Administration – Paige Birtwistle
AAT Accounting – Omair Khan
Supporting Teaching and Learning in Schools – Brandon Naisbitt
Hospitality and Supervision Leadership – Joanna McGrath
Carpentry and Joinery – Oliver Shipstone
Carpentry and Joinery – Jacob Leonard
Plastering- Max Metcalfe
Construction Management – Chris Goss
Construction Management – Annabelle Robinson
Facilities Services – Joe Ellison
Digital Learning Design – Richard Brigg
Management – Lois Jordan
Functional Skills – Daniel Hunka
Employer of the Year 2018
Vita Cellular Foams – Caligen