College students learn more about beauty, business and believing in yourself in motivational talk by reality TV star Dawn Ward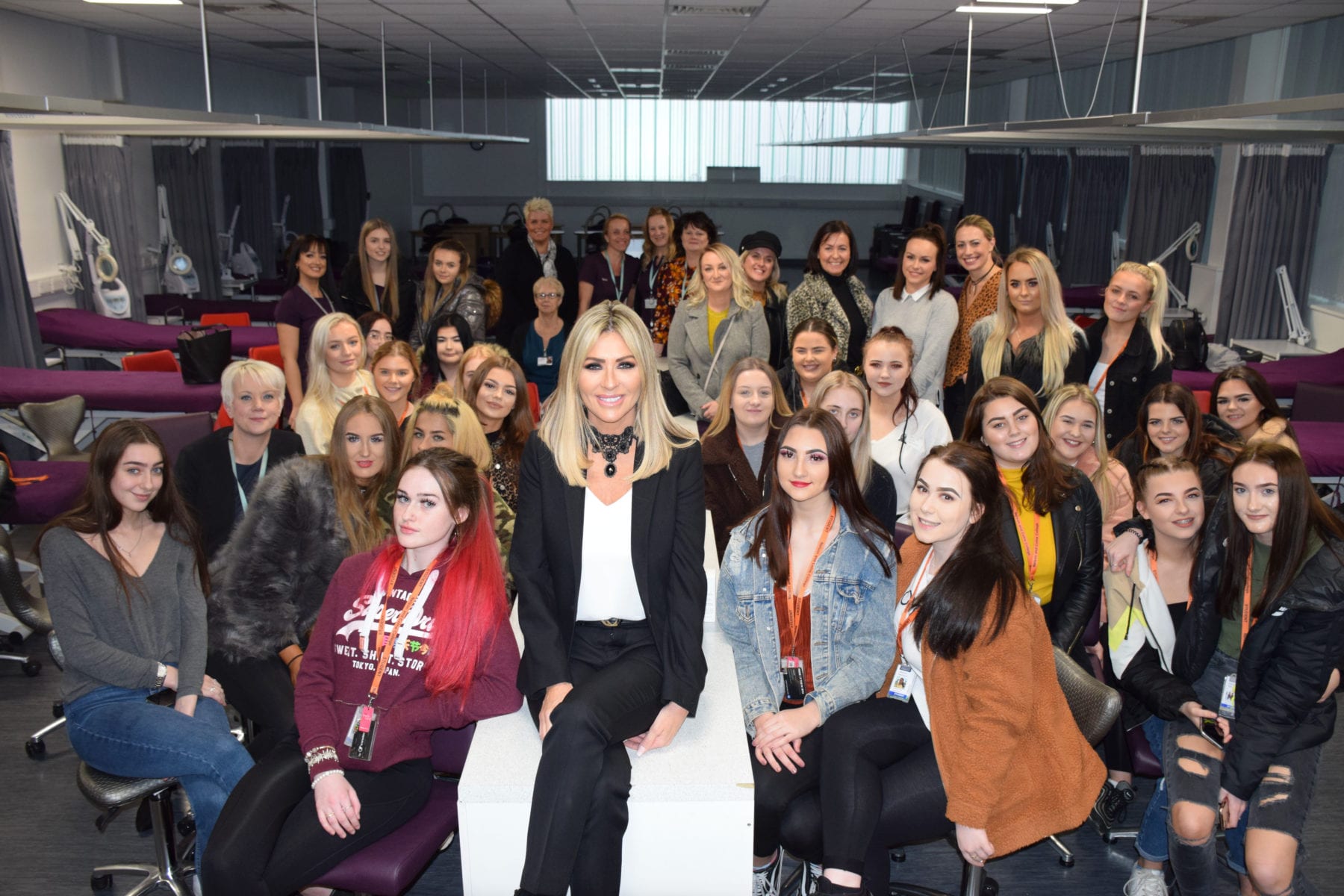 A Real Housewives of Cheshire star inspired students and salon owners on a visit to Nelson and Colne College with her talk on business, beauty and believing in yourself.
Dawn Ward, one of the British aesthetic industry's leading ladies and founder of Skulpt, gave a motivating speech to students from Nelson and Colne College, Accrington and Rossendale College and local salon owners on her journey in business and the skills required to succeed.
Visiting the college with Dawn were also staff from her Skulpt Academy, who showcased examples of the latest trends covering Levels 2-4 beauty therapy, spa, massage and make-up.
Sophie Hill, 16, who is on the Level 2 Pre-Apprenticeship programme at Nelson and Colne College, said: "It was a really good session and it was interesting to hear how Dawn has made it herself. I enjoyed the demonstrations as well and how they used the different palettes and blushes.
"I'm really enjoying my course at college as I've learned a lot of new skills and my ambition is to work as a mobile beautician working with make-up."
Helen Rogerson, 32, who is studying Level 2 Hair and Media Make-up at Accrington and Rossendale College said: "It was great listening to Dawn and picking up on new techniques. It was also interesting to learn about progression routes up to Level 4. I would like to work with make-up in the TV industry in the future."
Danielle Woods, Head of Training and Development at the Woodland Spa in Burnley, said: "I thought it was a very useful and inspiring session. I was here in a personal and professional capacity as I really wanted to learn more about Dawn and I have a personal interest in make-up, and from a business perspective, I also need to keep my ear to the ground on the latest and emerging ideas and standards."
Nelson and Colne College is the number one college in the country for 16-18 learner achievement and is number one in the area for vocational courses, based on progress scores. NCC also has a career college ethos that aligns students with industry, meaning they are work ready when they finish their course.
Claire Pye, Head of Division for Hair, Beauty and Hospitality at Nelson and Colne College and Accrington and Rossendale College said: "The opportunity for Dawn and the staff from Skulpt Academy to come and deliver the session at College was incredibly beneficial to our learners.
"Dawn's success story was a great motivation for our students and the Skulpt staff's demonstrations of techniques were high level, current and relevant, and it was a brilliant chance for students to see these up close.
"It was also an excellent chance to network and link up with local beauty employers, while they also gained professional development from the experience themselves."
Dawn Ward said: "The college is one of the best I have attended and the students are so lucky to have such fantastic and high quality facilities.
"It was an exciting afternoon being able to inspire the students and give them an insight into the skills needed in the aesthetics industry.
"This is the way the future of beauty is being moulded, and I look forward to working with the college in the future as they ensure their delivery matches the industry standards and developments displayed during the visit."
Nelson and Colne College's next Year 11 Open Event and Interview Evening is on Tuesday 5 February from 5.30pm and 7.30pm. Visitors can find out about the wide range of options available to study at NCC – including more than 30 A Level subjects, a wide range of high quality, career focused vocational programmes and Apprenticeship opportunities in a multitude of different sectors.
Prospective students will also have the chance to enjoy a tour of the campus and view the college's state-of-the-art facilities, meet expert tutors and members of the Careers Team, take part in a range of exciting 'have a go' activities and learn about Nelson and Colne College's diverse and constantly-evolving extracurricular offer.
Nelson and Colne College has been rated as Outstanding by Ofsted since 2005 andis also the best college in Lancashire for student satisfaction, according to the FE Choices Learner Satisfaction Survey.