Accrington and Rossendale College step up to supply first-class food for local company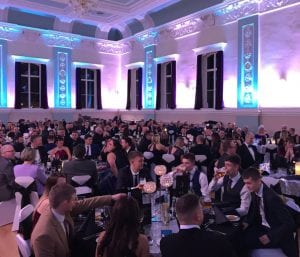 Accrington and Rossendale College stepped up to supply first-class food for local company, Emerson and Renwick, as they celebrated their centenary in business on Friday at Accrington Town Hall.
Catering for over 200 people was a mean feat but the students at the college pulled it off with delicious dishes and impeccable service.
Ben Clements, Managing Director at Emerson and Renwick, commented:
"We really wanted to support a local business when it came to supplying the three-course meal for our evening of celebration. We went for a tasting session at the college earlier this year and were blown away by the fine dining experience we received. The food is top notch – simply fantastic! Nothing was too much trouble for them."
Chris Dobson, Chef Lecturer at the college, commented:
"The college is so incredibly proud of all students involved in the event for Emerson and Renwick on Friday. It's important for them to build up experiences working in 'real life' situations and the sheer number of people who attended the dinner would have presented a challenge similarly to what they will come across in their careers. They all handled it excellently, serving food to the highest of standards, just as you would expect at any gala dinner."
Accrington and Rossendale College welcome any quotes for outside catering for any event ranging from finger food buffets and afternoon tea to fine dining cuisine … all with a five-star service. For more information or to get your own no-obligation quote you can give Roots Restaurant a call on 01254 350204.
The Accrington-based college aims to provide with the best education they possibly can, and this includes allowing them to use industry standard equipment. Students have been learning the ropes at the college's on-site training kitchen / restaurant, Roots, where guests can enjoy exquisite restaurant quality food for a fraction of the price.
For more information about Accrington and Rossendale College and the courses they have on offer visit www.accross.ac.uk