As one of Lancashire's largest providers of apprenticeships Accrington and Rossendale College have partnered up with Hyndburn Borough Council to host the upcoming Jobs and Apprenticeship Fair.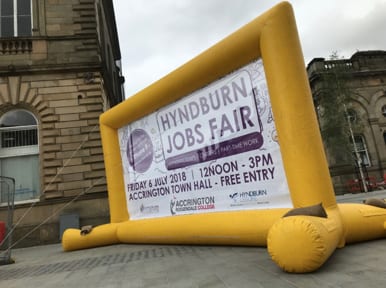 Hyndburn Jobs and Apprenticeship Fair is coming to Accrington
Taking place on Friday 6thJuly at Accrington Town Hall from 12pm – 3pm, the event is now in its fifth year and open to anyone of any age, from school leavers to retirees, who are looking for employment, thinking about doing an apprenticeship, or looking for career advice.
Employers attending include (but not limited to): GAP Ltd; CVS Hyndburn & Ribble Valley; North Lancs Training Group; Go Velo Cycle Training; Nelson and Colne College; Burnley College; Armed Forces Careers Office Preston; Broadfield Home Care; Homestart Rossendale, Burnley and Hyndburn; Daisy Communications; James' Place; and East Lancashire Hospital Trust.
Accrington and Rossendale College are calling out for mature learners, in particular, to attend the event and find out more about Higher Education courses they offer. Average earnings for leavers from the College's Higher Education programmes has increased another £3000 indicating that graduates go into highly paid jobs and now is the perfect time to apply.
Tutors from the college will be present at the Hyndburn Jobs and Apprenticeship fair for anyone interested in applying to study.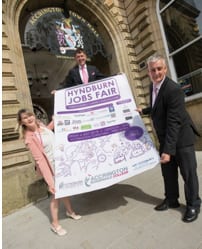 Now in its fifth year, the event is open to anyone of any age – from school leavers to retirees
Charlotte Scheffmann, Assistant Principal at Accrington and Rossendale College, commented:
"We are very proud to be a part of this event. We are hoping that we get some mature learners along – it's never too late to learn or to chase your dream job! We have students from a wide range of ages, from school leavers at 16, right up to retirement age. We don't discriminate and think everyone deserves access to education regardless of their background. If people are nervous about getting in touch or applying because they have been out of education for a number of years, or left school with no formal qualifications, we are urging them to just come and say hello to the team."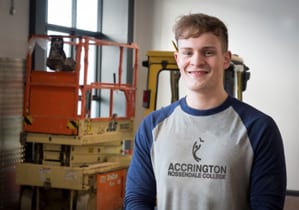 James Fishwick credits Accrington and Rossendale College for excellent apprenticeship opportunities
Attendees can register in advance to winan iPhone!
To register to attend or for more information about the Hyndburn Jobs and Apprenticeships Fair visit www.accross.ac.uk