International hockey player visits Accrington and Rossendale College
Charlotte Hartley, former international hockey player who has played for the England and Germany Squad, visited Accrington and Rossendale College on Thursday 8th March – International Women's Day – to talk to students about her career and overcoming hurdles to succeed.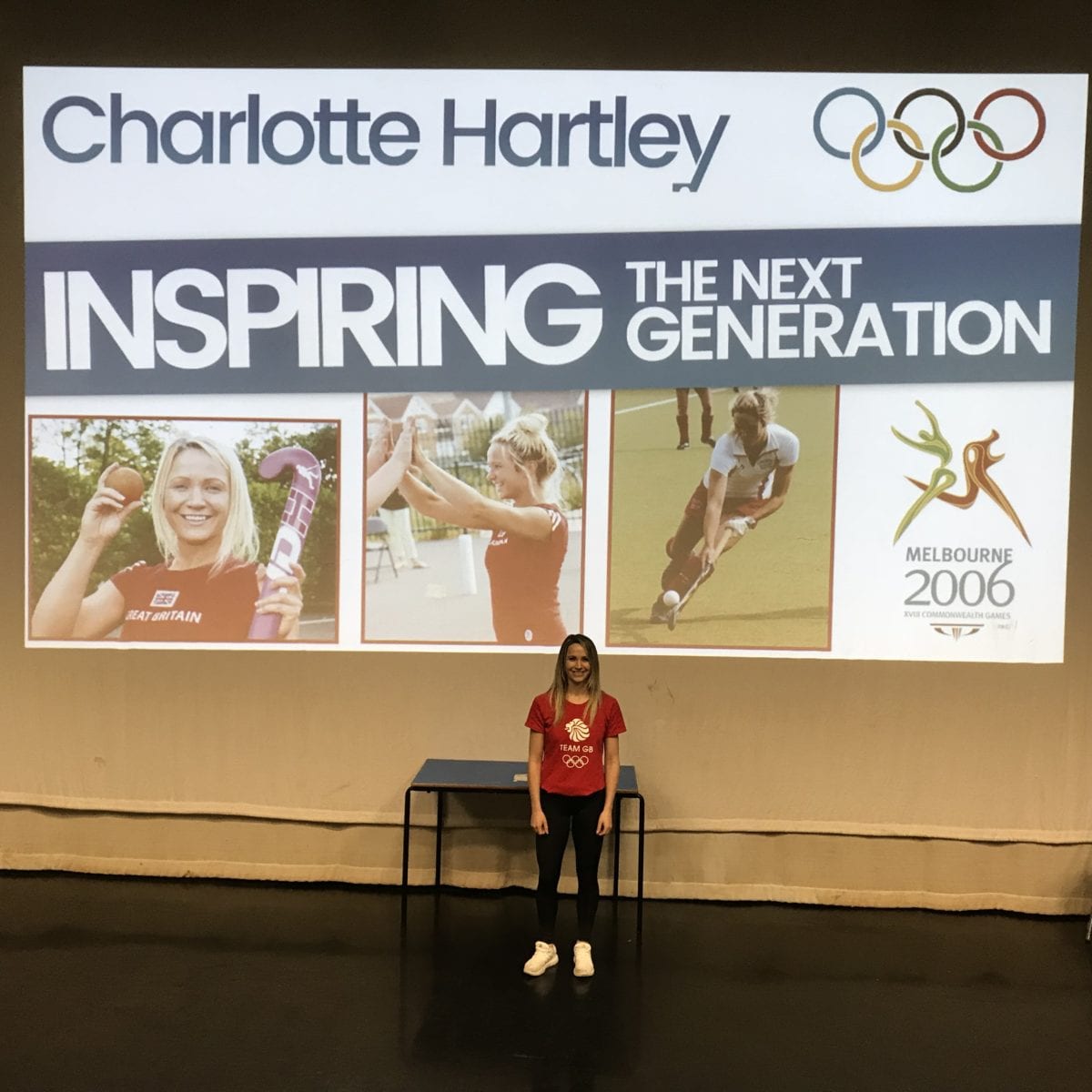 International hockey player visit
"I was born and raised in East Lancashire with my two brothers and absolutely loved sport from a young age," Charlotte began, "I started playing football at the age of around 10, and knew immediately that this is what I wanted to do. I was convinced I would become a football player from day dot."
Charlotte hasn't led what one would call an 'easy' life. Calling herself a 'different' child, she found herself bullied from a young age which eventually led to stress-induced alopecia and complete baldness at the age of 10.
"Starting high school is when I found hockey. I was invited to join the hockey team by my PE teacher, who has since become the most influential person for my hockey career. It isn't the most popular sport and, in all honesty, in the first instance I wasn't overly keen. I started and I loved it – but I still told the teacher I was going to be a footballer."
"I went out of my comfort zone, enjoyed it and started working my way up from that point. Started at school, then joined my local club, played for Lancashire, the North of England, took part in the under 16's trials for England, and it went from there," Charlotte told the students.
Charlotte started playing for the England Hockey Team and quickly realised that this was her career and she wanted to excel at it:
"I wanted to go to the Olympics. This was the goal – my motivation. As long as I got to the Olympic Games I would be happy and know I'd succeeded. I wasn't that good at anything else; bottom set for everything but PE."
Sadly, it wasn't a smooth sailing feat and, despite being the youngest in the medal-winning team at the Commonwealth Games in 2006, she was dropped from the first team shortly before the World Cup the following year.
"I felt like I had let myself down. I started playing for the junior squad at this point and we had an excellent season. So much so, that the senior team coach got back in touch with me and asked me to return to the senior squad. It was then that I knew I needed to work hard. I had to be faster, fitter, stronger, better than I ever had been before. I trained six hours a day. People started telling me I was looking great; asking me if I was losing weight. I liked that my efforts were paying off and showing in my physique."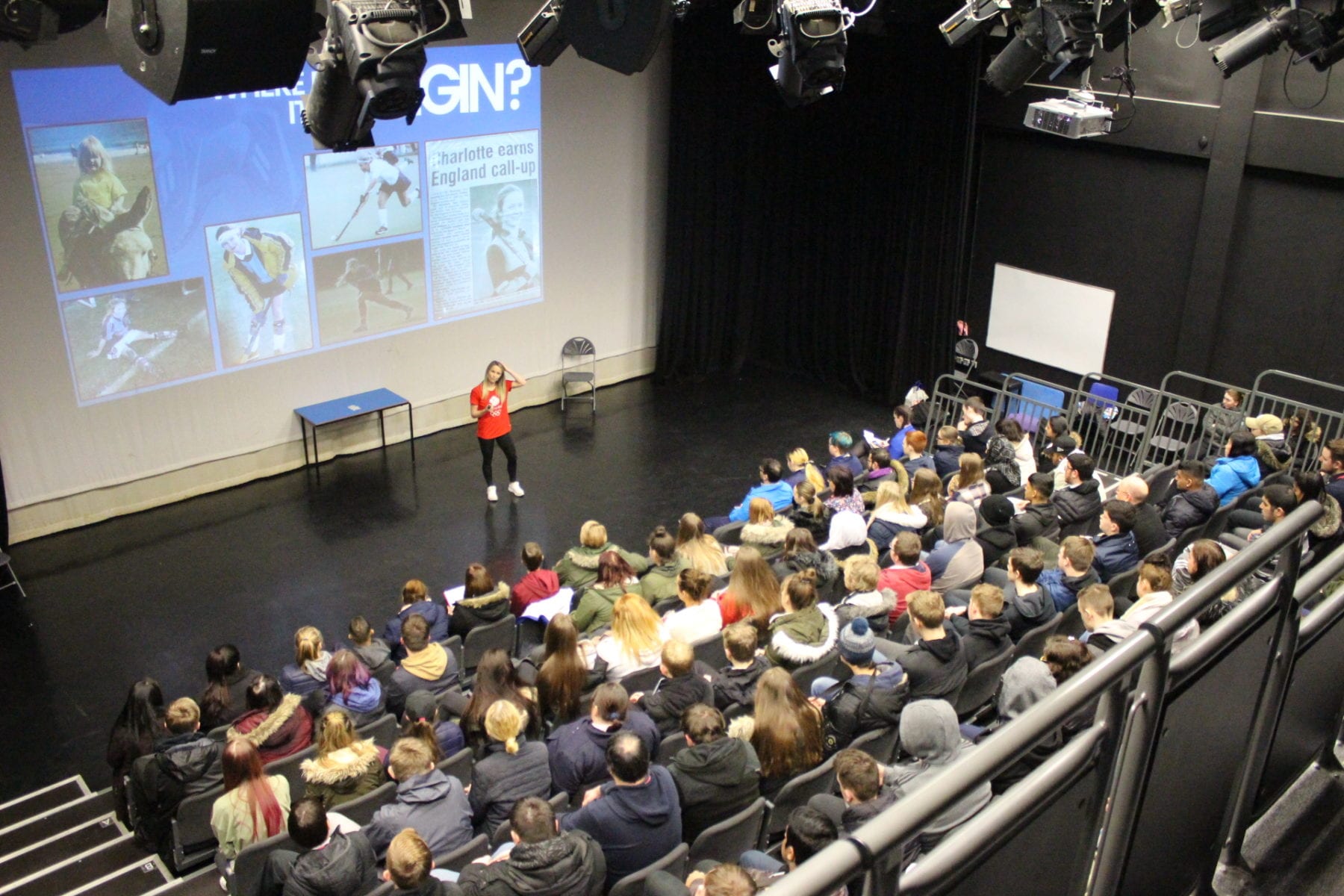 Charlotte told the students of Accrington and Rossendale College that training harder was 'the worst decision' of her life – leading her into a downward spiral that would soon have her banned from playing sport.
Charlotte developed Anorexia Nervosa. Her Olympic Games dream put on hold.
"I felt like I had failed myself. I had worked so hard to get to this point but my desire to do better; to prove to people I was good enough, caused a lot of damage – too much damage."
Charlotte recovered after a year of seeing doctors and psychiatrists and graduated as a primary school teacher. Not settled with where her life was at, she took a year out and travelled the world. Students listened intently as the former hockey star talked about her travels to Thailand, Malaysia, Singapore, Fiji, Australia, New Zealand and America – describing it as the best thing she has ever done:
"If there is anything I want to ask you all to take away from this visit today, it's to go out of your comfort zone. If you don't do anything else, get out of the country for a bit, travel."
Charlotte eventually ended back up on the hockey pitch after being offered a professional contract by a German club, before retiring to raise her son, Louie William, born in October 2016. She now spends her time travelling the country to visit schools and colleges to speak about her career, the hurdles and obstacles she's had to overcome, and how they too can succeed.
"I can't say I would do things differently. I do have regrets and I know I never reached my Olympic dream, but I still managed to do something and that's the most important thing. You all have the power to do something – use it!"
Charlotte Scheffmann, Assistant Principal at Accrington and Rossendale College, said:
"We are so pleased to have had Charlotte in today to talk to the students. They were all really enthused. We are grateful for visitors who take the time out to come and speak to our students; giving them insight into careers, but also obstacles that they may have to overcome to get there. Charlotte being here today and speaking to the students has shown them that they can still be successful despite adversity or hardships thrown their way and I think that's really important. Our lecture theatres are available for any speakers who think they can bring a valuable learning opportunity to the college, or to host events."