The achievements of adult learners have been recognised and celebrated at a glittering awards ceremony hosted by Lancashire Adult Learning.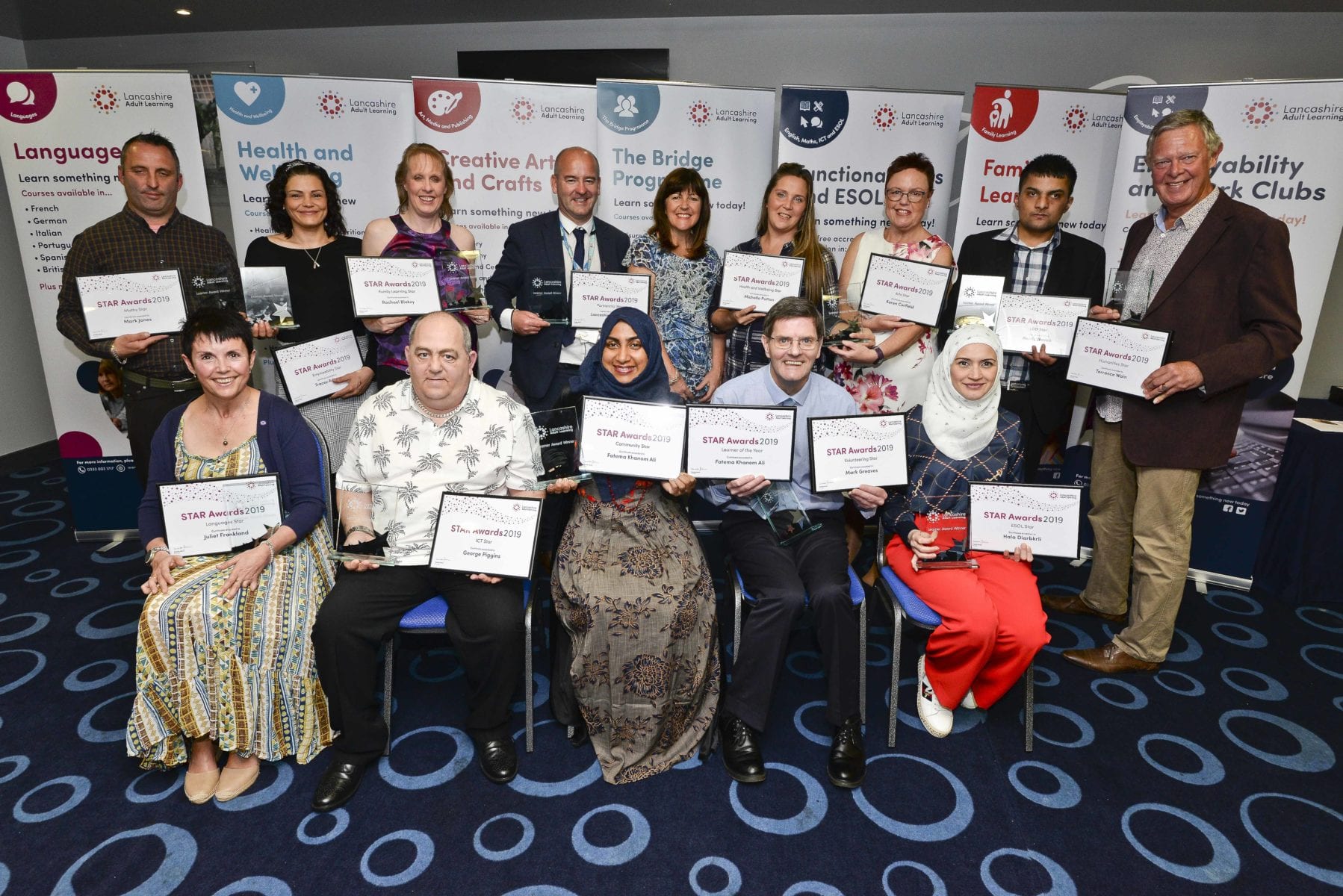 Held at Preston North End Football Club, the Lancashire Adult Learning Star Awards on Wednesday saw learners from across the county awarded accolades for their success in front of VIP guests, LAL staff and their proud family and friends – after a mocktail and canapé reception.
Learners were also selected from across LAL's spectrum of provision including Maths, ICT, Family Learning, Health and Wellbeing, Employability, Languages, Arts and Volunteering. There was also a special partner award for Lancashire Libraries.
Two learners shared their learning journeys on the night – this year's ICT winner George Piggins and Susan Bottomley, Lancashire Adult Learning's Maths star from 2018, who returned to share her story with guests after she successfully changed her career with the help of LAL from two decades flying around the world as cabin crew to fighting fires with Lancashire Fire and Rescue.
Lancashire County Councillor Graham Gooch, Cabinet Member for Adult Services, also gave a passionate speech to guests about the transformational effects of adult learning.
Lancashire Adult Learning's Community Star, and overall Learner of the Year, Fatema Khanom Ali, from Burnley, said: "I'm amazed I have received an award – it is lovely to be recognised. Lancashire Adult Learning has inspired me and I now feel empowered. They believed in me when others didn't and I am extremely grateful."
George Piggins, from Preston, said: "When I started with LAL, I thought it would be impossible for me to pass exams and I couldn't use emails. Since then I have passed my Entry Level 1 and Entry Level 2 ICT exams and I'm about to sit my Entry Level 3.
"I never thought I would have been able to achieve what I have and my confidence is much improved. I feel the future for me is much brighter after doing this course with LAL."
Principal of Lancashire Adult Learning Amanda Melton said: "Our Star Awards was a wonderful occasion and it was lovely to hear the stories of our inspirational award winners and see them presented with their awards in front of their proud family and friends, LAL staff and VIP guests – all of whom share a similar passion for lifelong learning and understand its importance in offering opportunities to adults.
"Whether people are looking to develop personally or professionally, are wanting to learn a new hobby or skill, are keen to engage with their local community, or get back into work, there is something for everyone in adult community learning.
"All of our winners on the night decided to return to adult learning for different reasons, and I'm delighted that this has had a positive, if not transformational, impact on their lives. It truly is never too late to learn, and congratulations to all 2019's deserving winners."
As well as its targeted delivery and partnership work, Lancashire Adult Learning offers a huge range of planned provision across the Red Rose County, from Arts and Crafts to Humanities classes, Languages to Health and Wellbeing sessions and Functional Skills English and Maths and Employability courses.
In February 2018, Lancashire Adult Learning was named as the inaugural winner of the national Adult and Community Learning Provider of the Year at the TES FE Awards.
Further information about Lancashire Adult Learning can be found at www.lal.ac.uk or by calling 0333 003 1717.