Nelson and Colne College and Accrington and Rossendale College merge to create single college offering 'highest quality education for all'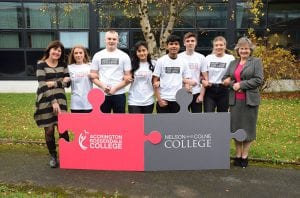 Nelson and Colne College and Accrington and Rossendale College are delighted to have today (Friday 30 November) joined forces to create a single college that will offer the 'highest quality education for all'.
The vision of the combined institution is to create a single college that will offer exceptional skills, vocational and occupational training, sixth form and adult community provision. It will also create a financially robust college that can maximise the benefits for learners, make best use of public funding and maintain innovation and excellence.
The idea of the proposed merger was taken to public consultation earlier this year, with the overwhelming majority of responses being in favour of the united organisation.
Principal of Nelson and Colne College Amanda Melton said: "This is a hugely exciting time for all involved, and we would like to thank all our staff, students and stakeholders for their support throughout a successful public consultation process.
"We are now looking forward to building on the strengths of both Colleges to ensure the highest quality education and technical skills for all, as well as outstanding achievements and employment outcomes for students. By merging, NCC and A&RC will be able to deliver a growth of provision, a stronger financial future, and a highly skilled future workforce for the region."
The benefits of the new merged College include:
Combining complementary strengths to increase the range of high quality education and training opportunities and progression routes for learners and employers
Providing a single point of contact for employers, across a wider geographical footprint
Delivering a joint curriculum offer, which builds on the established specialisms of both colleges and avoids unnecessary duplication of investment
Greater capacity to develop provision to meet national and local skills priorities for growing Apprenticeships and higher level professional and technical education. This will support economic growth and prosperity in Pennine Lancashire
Better capacity to engage nationally and regionally with partners and stakeholders, in order to bring greater and continued benefits to the local communities
Combining the talent pool of staff and the excellent facilities and resources, to widen opportunities for learners and to ensure ongoing efficiency, value for money and financial stability
Increased investment in the latest learner resources and facilities – enhancing and ensuring the continuity of local provision
Current and prospective students will see no impact on their study or existing application as a result of the merger.
In 2016, Nelson and Colne College took over responsibility for running Lancashire Adult Learning, the country's second largest Adult Community Learning Provider that delivers over 2,000 courses to more than 300 venues across Lancashire. LAL has since gone from strength to strength, this year winning the coveted title of TES FE Adult and Community Learning Provider of the Year.
For more information on the merger, including Frequently Asked Questions, please visit www.penninemerger.co.uk or email merger@nelsongroup.ac.uk or merger@nelsongroup.ac.uk