A Nelson and Colne College Apprentice and leading light at LED specialists acdc has been nominated for a national award for the positive impact his work has had on the company.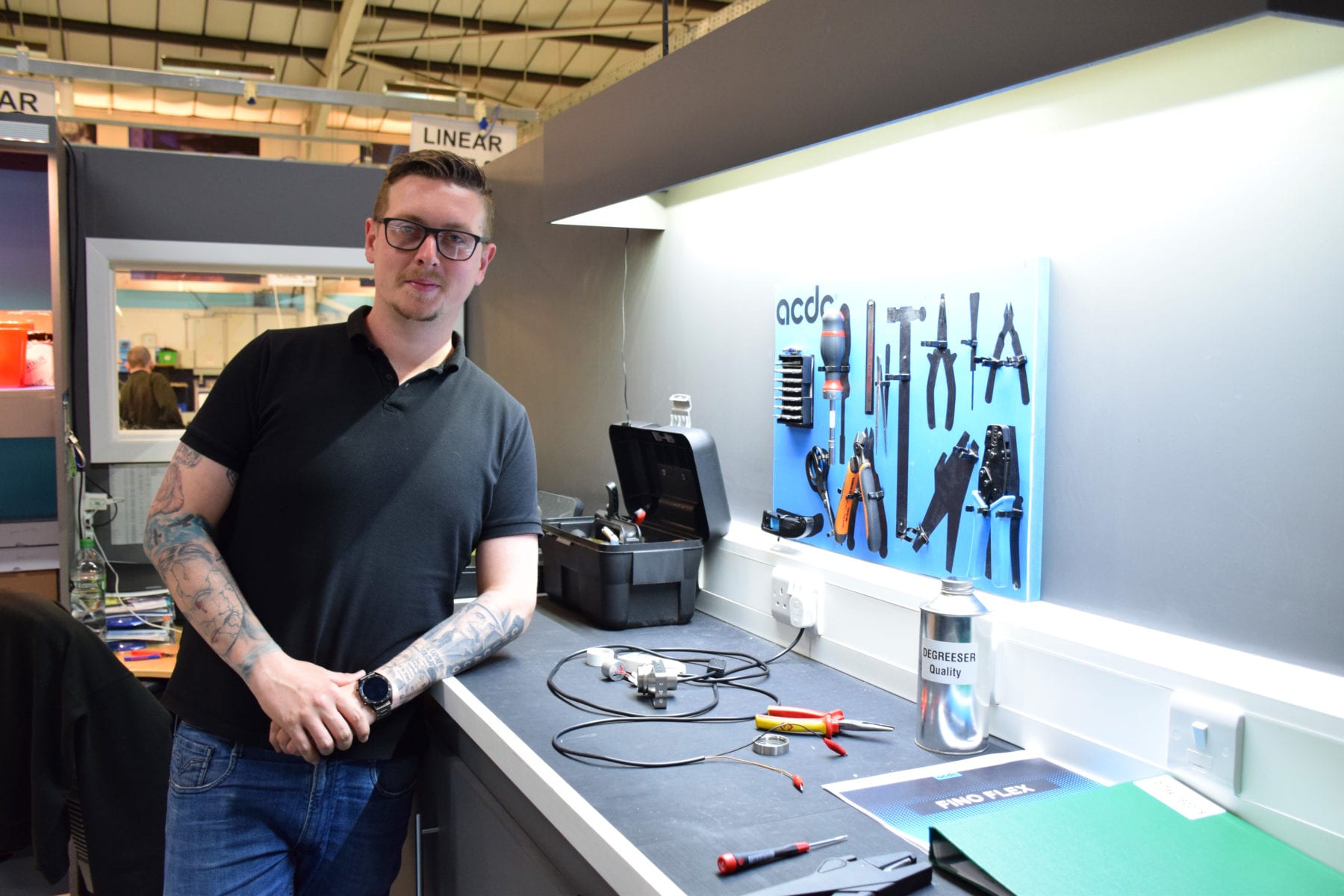 Level 2 Engineering Apprentice Michal Halamicek, 30, from Barrowford, has been put forward for a National Apprenticeship Award after a number of changes he implemented at acdc resulted in dramatic improvements to the business.
The improvements made under Michal's supervision include a new purpose built inspection room with clearly identified areas of progress which has significantly reduced the number of defective products leaving the factory to an all-time low in 2019. On the company's most popular product line, for example, the average improvement is between 50% and 66%.
New soldering irons which melt solder at a lower temperature and provide a better connection have also been introduced by Michal and acdc has had zero returned products from customers due to soldering defects in 2019.
Michal, who was promoted to the role of Quality Controller, is encouraging others to consider completing an Apprenticeship after seeing how it has benefited him personally and professionally, as Nelson and Colne College's Apprenticeship Team prepares to hold a series of Apprenticeship Summer Workshops beginning on Wednesday 7 August – designed to get people ready and prepared for their Apprenticeship journey.
Michal, whose technical knowledge and professionalism has also seen him take on an After Sales role too, said: "I chose to do my Apprenticeship because I was given the opportunity to progress at acdc. I love working with the products and looking at innovative ways to improve them and I always want to learn more, and improve the business.
"I would like to complete a HND and then a full Electrical Engineering degree. I'm currently learning testing and compliance which will lead to working with standards and specifications from all over the world and my aim is to become an expert in this field.
"Through my Apprenticeship, my confidence has improved, my computer skills are better and my English is now good. My problem-solving, analytical skills and report writing have developed, and I have a better understanding of customer service and relationship management. My Engineering drawing skills and tooling skills are also much better.
"A big part of my role is motivating others. I'm seen as a mentor within the business which I like. I would encourage others to do an Apprenticeship as I would not be where I am now without mine. I want to be the example others follow and it is great that colleagues who have seen the progress I have achieved through my Apprenticeship are now considering the same pathway.
"My biggest achievement so far is overcoming my fear of heights by working on the roof of Tottenham Hotspur's new £1billion football stadium. acdc supplied the lighting for the roof and exterior, and this was a big contract requiring good relationship management. The stadium had a successful launch in March and it was satisfying knowing that I had played my part."
Hattie Wrest, Quality Manager at acdc, said: "Michal is a valued member of the team here at acdc and his proactive approach enables him to interact positively throughout the business.
"His attitude is of the highest level, offering support and guidance to those around him. He constantly strives to learn and improve and is very much the 'go to' person when seeking solutions or innovation for the manufacturing processes.
"Michal's tenacious standpoint on Quality earns him the respect of his fellow workers who follow his lead and ensure a 'right first time' approach. He is integral in the development of our Engineering skill set and it is a pleasure to have him in the team."
For more information or to book onto the Apprenticeship workshops, please contact Nelson and Colne College's Apprenticeship Team on 01282 440319 or email apprenticeships@nelsongroup.ac.uk.