The young recruits at Accrington and Rossendale College took part in workshops about a range of career paths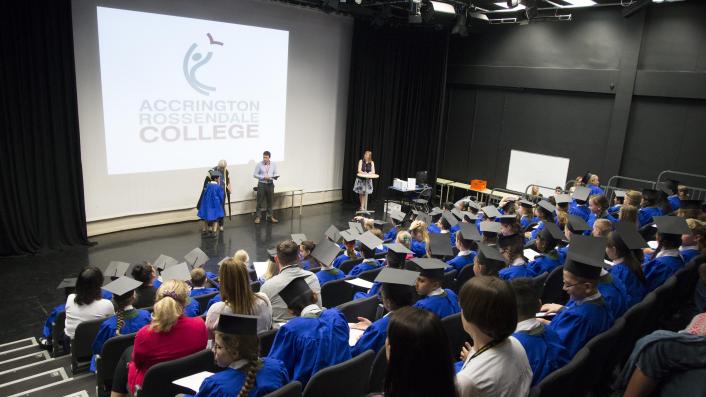 (https://www.tes.com)
Primary school pupils 'graduate' from Accrington & Rossendale college.
"The students are starting to look even younger." Experienced teachers have been known to make this comment when they catch a glimpse of their class of new starters on enrolment day.
But one FE college has taken recruitment at the younger end of the age range to an extreme, by bringing in almost 90 primary pupils for a graduation ceremony.
The 89 Accrington Peel Park Primary School pupils had taken part in a series of workshops at Accrington and Rossendale College during the past term, which were designed to highlight the variety of career paths available and gave them an introduction to a variety of college subjects.
The "Higher Futures 4 U" initiative aims to raise aspirations and demonstrate routes into careers that pupils may not have considered before, said the college.
'Raising aspirations'
Speaking on the day of the graduation ceremony, Charlotte Scheffmann, assistant principal at Accrington and Rossendale College, said: "Today has been wonderful for many reasons. Leading the graduation ceremony for the pupils was a great honour. Our goal is always to raise aspirations for children; showing them just how many options are available is a brilliant way to do this."
She added: "I was also looking forward to seeing Brandon, one of our previous students here who now works full-time for the school. He is a brilliant example of the success our students are having. It is also great to see local primary schools engaging with us and opening doors for their children."
Brandon Naisbitt, a teaching assistant at the primary school, initially studied for a level 3 apprenticeship in support teaching and learning in schools at the college. He said: "I have been really looking forward to coming back to visit the college since I completed my apprenticeship. Last time I was here I was studying whilst working, and now I have a full-time job with the school. It's been the best thing I've done; I had a placement at Peel Park during my apprenticeship and they ended up offering me a job."