Accrington and Rossendale College host a Q&A with Andy Holt about his apprenticeship journey
Taking to the stage after an insightful introduction to Accrington's footballing history over the last 140 years, Andy Holt spent an hour with students at Accrington and Rossendale College on Monday to talk about the importance of community, connections and education whilst reflecting on his own journey to success.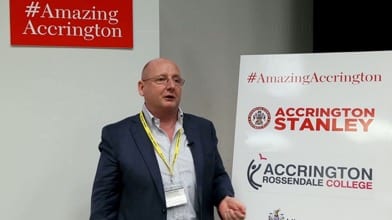 From a young lad growing up on Stoops Estate in Burnley, to owning a successful manufacturing business and now a Football Club, Andy Holt had a wealth of experience and knowledge to share with the young audience.
"You're at an age now where you have to decide what you want to do for the rest of your life and that's tough, especially if you're not sure what path to take. I was in your shoes and it took me a long time to figure it all out."
Reflecting on his time growing up, Andy explained he wasn't always the model student and the impact of his father passing away.
"Where I grew up, on Stoops Estate in Burnley, was brilliant – it definitely didn't feel 'rough' to us that lived there. I did get up to mischief but thankfully we always had something to do, I used to attend a Youth Club for example. This is one thing I want to provide for the youth in Hyndburn and it's why I work closely with the Accrington Stanley Community Trust and the council. I wasn't the best student in school, but it was the sports clubs that kept me on the straight and narrow from an early age. I always did well in the subjects I enjoyed; unfortunately this meant I failed things such as English! I remember one teacher when I was 16 saying 'either you leave or I do'."
The next few years of Andy's life would then shape his whole future.
"When I was 16 my dad died, this is definitely not something you plan for and completely shaped my future. Before this it was decided on my behalf that I would be going to college, then to university. This didn't happen; I left school at 16 intending to go into work."
"I was really lucky, in the end I found an Apprenticeship that was ideal so I did go to college at 16. The importance of this education was huge for me and I definitely wouldn't be where I am today without it. I spent time at college doing my apprenticeship, I couldn't have guessed I would end up making and designing tools but I really enjoyed it. I got involved in all aspects of the business and I guess this was where Wham was born for me, I started my first business at the age of 24!""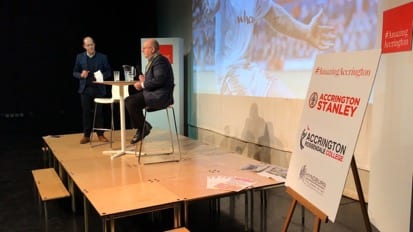 What More UK (Wham) is a £50million business that was started from scratch in #AmazingAccrington back in 1999.
"We are the largest UK plastic houseware manufacturing business and make over 50 million plastic products each year. We ship to 71 countries and are flying the flag for British made products. We ship our products to places you would never guess, India, China, everywhere! It makes me really proud to know
that British made products are bought across the world and are in such high demand. People don't realise all this is being created in Accrington, we need to be shouting about it." Andy Holt is also the Chairman of Accrington Stanley FC, the decision to take on this role was not a clever business decision he explains, but a personal one.
"Murray [Managing Director of Scott Dawson Advertising and founder of the #AmazingAccrington initiative] was constantly bugging me to buy Stanley. I had no intention or ambition to own a Football Club but I was eventually persuaded to come along to a friendly match against Burnley."
The events of this game are what led to Andy Holt stepping in, doing his best to save the club.
"During the match Accrington Stanley were 3-0 up, which was brilliant as my mates who support Burnley were there too. Then Stanley ran out of beer. Can you believe it? Such a wonderful match, everyone in high spirits and the bar ran dry – they ran out of beer. So even though I was looking in to putting £200k in to the club to become a shirt sponsor and a stadium sponsor, they couldn't afford beer."
Andy's wife, financial advisors, lawyer, family – everyone – told him not to buy the club. Being a 'stubborn man' and eager for a challenge he therefore decided to offer to help.
"Before buying the club I first offered to 'have a look'. Over the years I have gained a lot of experience so I thought if they let me take a look I might have some ideas. When they showed me I was shocked. The club needed an extortionate amount just to keep afloat. There were unpaid bills for everything like pies, wages and when I looked a little closer I saw how there was money being put in was from trustees, from fans, from people in the community, from their personal pockets. It was then I saw the importance of the place. It definitely wasn't a quick fix but I realised it was very treasured, and more than worth the effort for the potential."
Accrington Stanley FC have a long history and deep roots in the town and with Andy Holt as the Chairman they are going from strength to strength, part of this is through supporting their players. Andy Holt has now made sure all the contracts protect the players and the club.
"Take Billy Kee for example, he's a lovely young lad with a family. He has anxiety and depression and is a brilliant role model for young people. Not only is he a star player, he is open, honest and this has meant we can support him. Since he admitted he was struggling he's been scoring more goals!"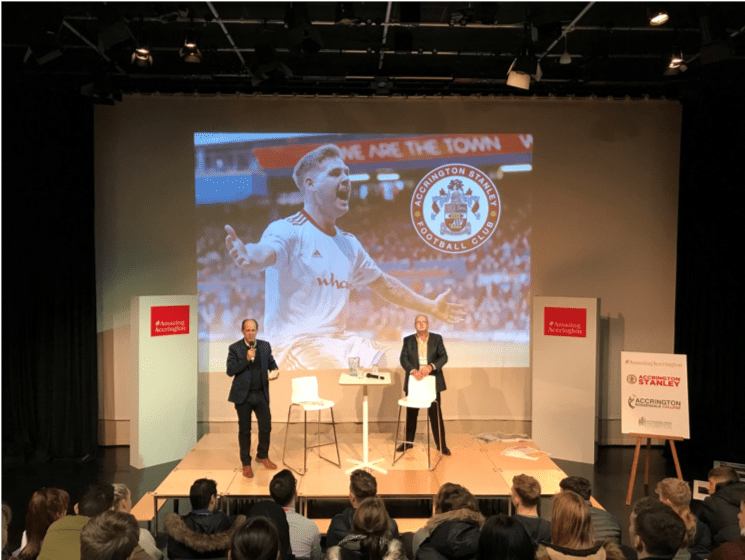 The audience of Accrington and Rossendale college students was full of questions for Andy about young people starting their own business, support from Hyndburn council and his plans for ASFC.
"My advice to all young people is to not give up. I went through so many failings before finding something that worked and I wouldn't change any of them. Each failure is a learning experience; nothing is ever successful on the first try! I didn't find success until my 40's."
Charlotte Scheffmann, Assistant Principal at Accrington and Rossendale College, said:
"I would like to thank Andy Holt for coming to the college today, it was inspiring for everyone in the audience, reminding us all of the vital work the community trust is doing in the borough and the importance of educating our young people. We have a board up at the club through our sponsorship and we are looking forward to shared activity in the future with them – be that sending apprentices from the college up to the club or more events like this one."
For more information about Accrington and Rossendale College visit: www.accross.ac.uk
For more information about Accrington Stanley visit: www.accringtonstanley.co.uk