Super Soapbox Challenge will come to #AmazingAccrington this September!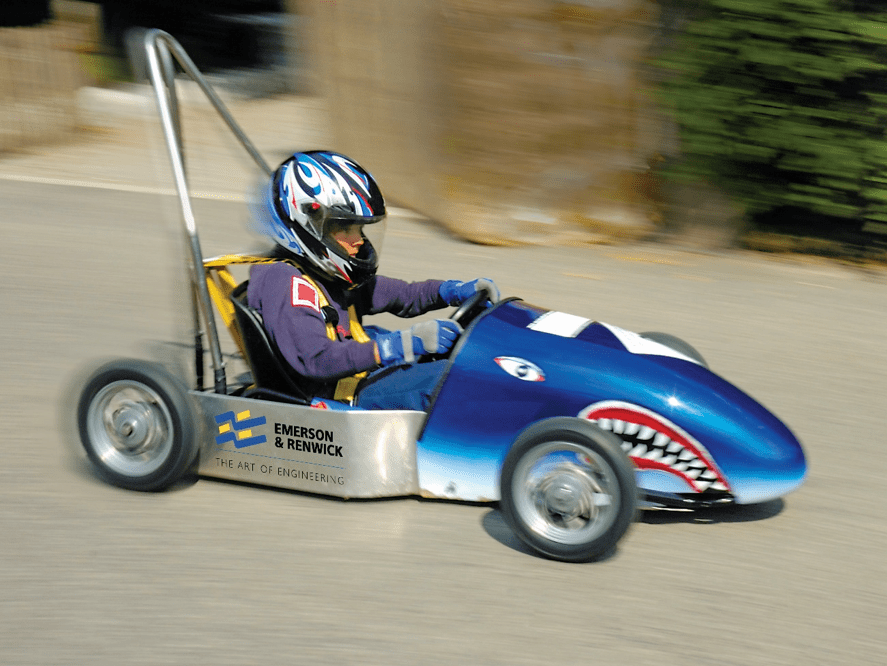 On Saturday 1st September 2018 at 2pm, there will be a Soapbox Challenge taking place at Accrington and Rossendale College. The initiative is sponsored by local innovative engineering and Technology Company,Emersonand Renwick Ltd, the event will be the first of its kind in the borough.
'Soapbox cars' were historically made from wooden soap crates, hence the name, but materials have become more varied since the first publicly recorded Soapbox race in 1904!
Emerson and Renwick are calling for groups or organisations to enter – one of the first entrants to sign up is Andrew Turner at local company Langtec. Competitors will be challenged to create a four-wheeled non-motorised Soapbox vehicle, using only gravity for fuel and speed. The Soapbox must have a form of steering and the ability to brake and competitor safety helmets must be worn – aside from that, there are no rules … it's simply the first to reach the finishing line wins!
Novelty prizes will also be awarded to competitors such as the Best Soapbox Design and Best Team Costume.
There will be three categories for people to enter:
– Businesses
– Charities/community groups
– Individuals/friends/families and Under 12's
With very little construction needed and technical or engineering minimal, soapbox cars make perfect projects for children – something that the whole family can enjoy. People can enter as a family, alone, or as a team and there are no limits to how inventive and adventurous your Soapbox can be.
In true champion style, there will be an outdoor podium on the day to present awards to winners at 4pm at Accrington and Rossendale College. The overall winner on the day will choose a registered charity for 50% of the fees to be donated to.
The Soapbox Challenge will take place on the same day as the Rally Challenge and the Chocolate Festival in Accrington Town Centre – all three events combined providing entertainment for all the family.
Sponsors, Emerson and Renwick Ltd, are this year celebrating 100 years in business – they established in 1918 as a Manufacturer of Textile Finishing Machinery. 2017 saw Emerson and Renwick becoming Hyndburn Business Award winners for Large Business of the Year; seeing the company being recognised as one of the most successful and sustainable in the borough.
Ben Clements, Managing Director, said:
"Our longevity and success are directly attributable to the people in the business who also depend on the community at large. This event will bring a lot of fun and something different to the town. We are looking forward to seeing all of the soapboxes entered and watching people rally together. We expect this event to create a lot of excitement and we definitely encourage people to enter the challenge. As a local company we are really proud of #AmazingAccrington and we want to be a part of things that happen within the community, so it only seemed right to sponsor the first ever (of many I'm guessing) annual Soapbox Challenge."
The event will be organised by Scott Dawson Advertising as a part of the #AmazingAccrington initiative. Managing Director, Murray Dawson, commented:
"We're really excited about this. It will appeal to all of the family and entice those with a need for speed in to the town. #AmazingAccrington is about sharing what the town and our engineering and manufacturing prowess can do. I think we can all agree that there is a huge sense of community pride in this town and that's the one thing I want to be boasted. The Soapbox Challenge will be a fun, high-spirited event that can have everyone involved: from manufacturing companies to schools, colleges and civic groups. We have no doubt that it will be a hit!"
The Soapbox Challenge is £100 to enter per team for businesses and £25 to enter per team for community groups, charities, friends, families, individuals and under 12's. 50% of the entry fees will be donated to the winner's chosen registered charity.
Anyone wishing to partake in the Soapbox Challenge can enter here: http://www.amazingaccrington.co.uk/soapbox-challenge/